Fashion with a Social Consciousness
Posted by BIJIBIJI DESIGN
Who are we?
Biji-biji comprises of individuals who are passionate about creating social impact through creative projects that aim to encourage people to lead more sustainable lives.
'Biji-biji' means seeds in Bahasa Malaysia. We want to plant seeds of sustainability across Malaysia with the hope that these seeds will grow into trees that scatter seeds of their own.
Our people come from various backgrounds and cultures, but are united by the same purpose and passion of creating a greener Malaysia. Our Ethical Fashion team is no different; through the production of, and sales of, upcycled kimono, seatbelt, banner and felt bags, Biji-biji Ethical Fashion aims to spread awareness about the global waste problem and encourages everyone to question their own perceptions of what is waste.
We are also determined to abide by the World Fair Trade Principles of providing fair payment and comfortable and safe working conditions for all our workers - managers, designers, tailors and all others.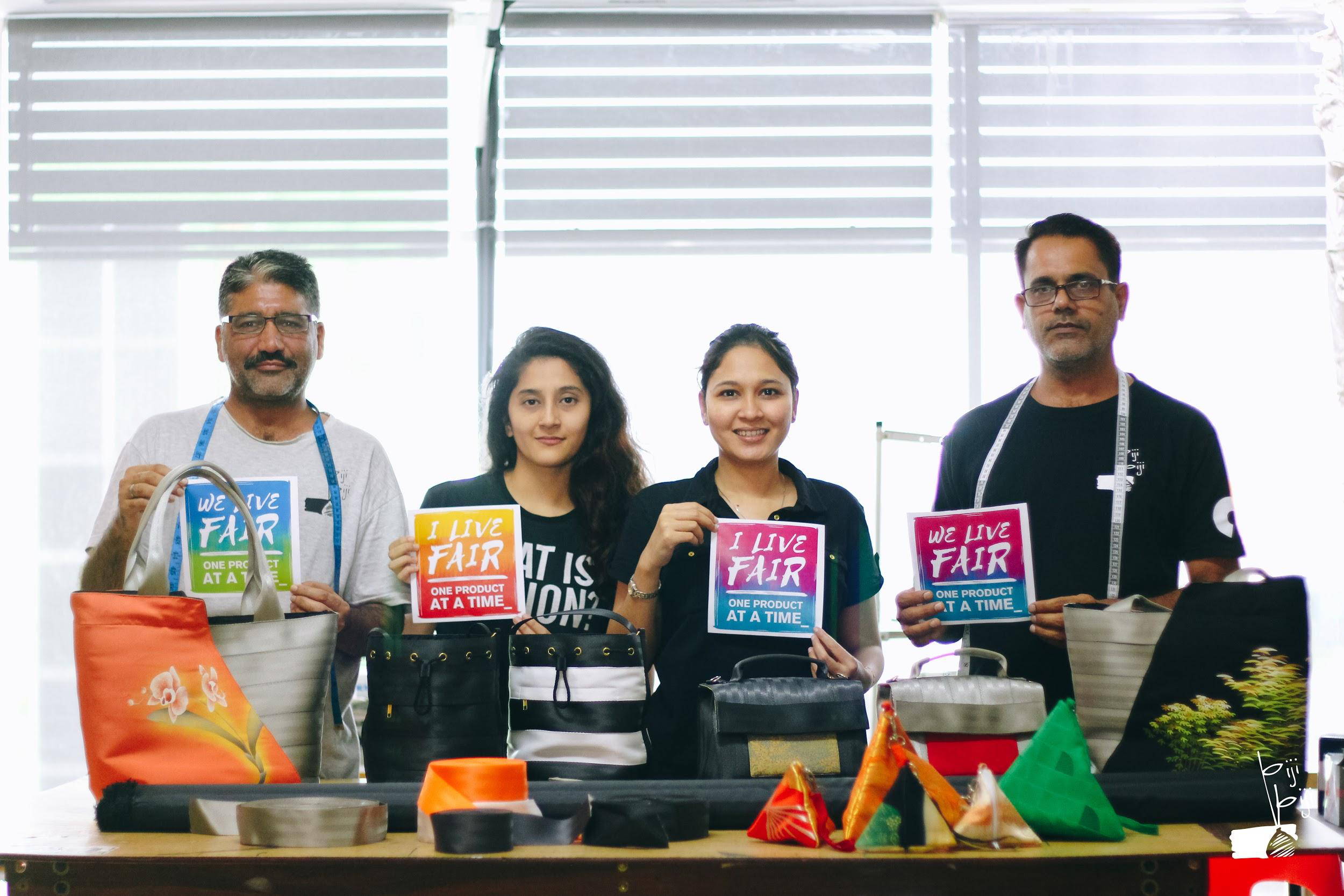 The Challenge
We have conducted projects with marginalised communities, including disabled children and low income mothers. Unfortunately, opportunities to do this are growing rare and difficult due to the following challenges:
Priorities and Logistics. Single mothers usually need to work from home to raise their children. We also need to arrange for the distribution of materials and the collection of finished products since workers are scattered over several locations.

Tools and Training. We need to provide sewing machines to allow the mothers to work from home. However, even with the tools and materials available to them, they will also need training on the specific stitches and patterns required to make the bags.

Quality Control. With mothers working from various locations, it becomes increasingly difficult to properly monitor product quality.
Despite these challenges, we are keen to find ways to overcome these challenges and work with this community again in the future. Through working with marginalised or lower income communities, such as single mothers and the disabled, we aim to increase their standard of living while also being mindful of their social circumstance. By including them in the stories we share, and recognising them as the makers of Biji-biji bags, we also spread awareness of their social circumstances.
The BIGGER Challenge
Unfortunately, we can only conduct these efforts when we are sponsored through a CSR project by big companies.
The challenge is how we can get these projects and who will pay? We can't say that we will hire them for an entire year, if there are no ongoing projects. It is only through these CSR jobs that we can support the marginalised.
Minding our Mission
"That's our mission, the bag's isn't just about using upcycled materials, it's also a social mission." - Nora, Managing Director of Biji-biji Ethical Fashion
As much as we aim to play our part in being environmentally and economically conscious, we also emphasise our social mission;   whether by caring for our migrant workers or showing kindness to the marginalised, here is a part for each of us to play. This includes you, readers.
What's MY Mission?
There are several ways you can contribute. You can contribute through purchasing our products, collaborating (if you have designs or a creative idea), donating quality materials or by stitching with us! Everyone is invited to be a part of the movement :)
Let's collaborate to achieve SDG 12: Sustainable Consumption and Production.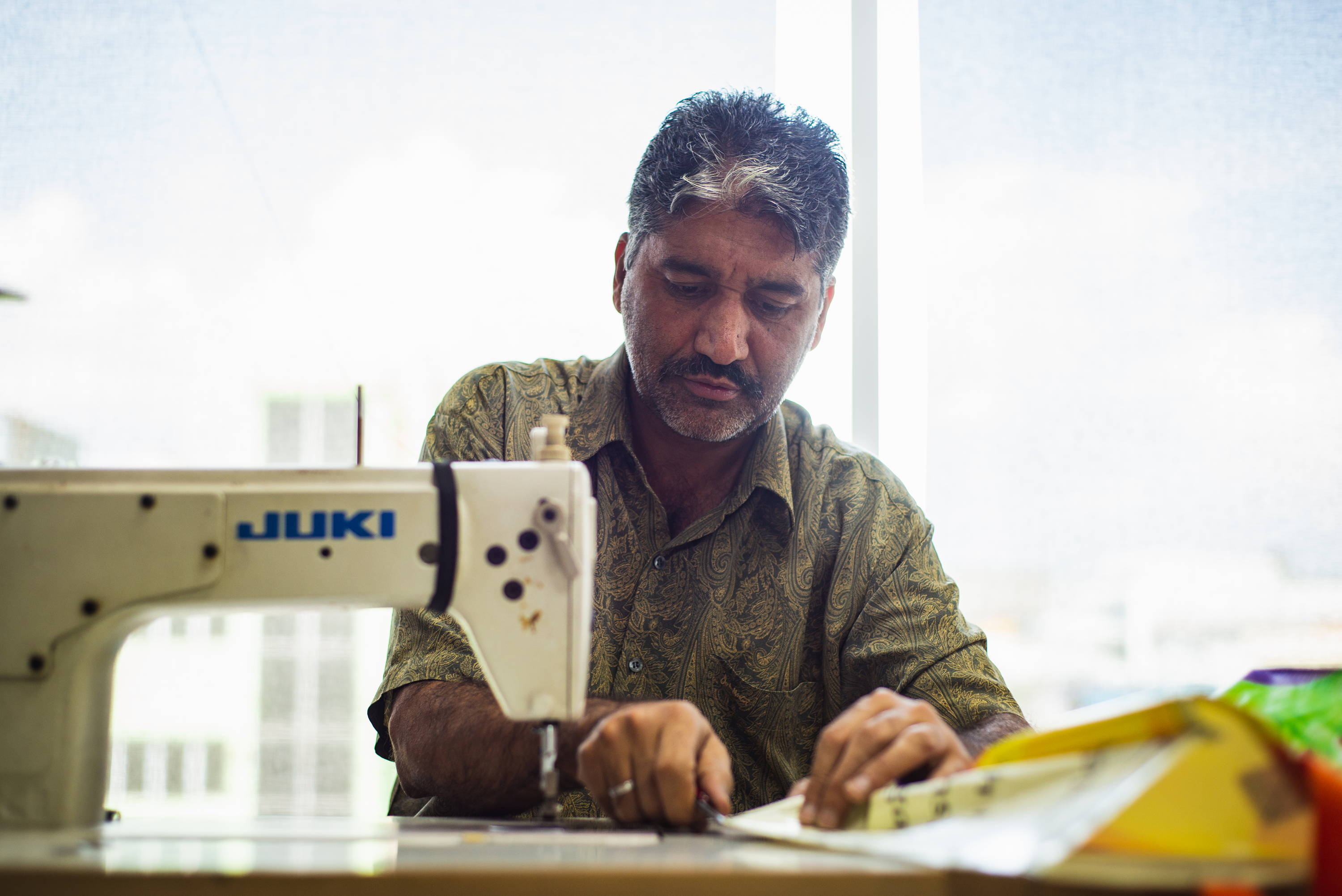 Collection 2019
Sale 70% Off
Title for image