Your products are quite pricey. Why is that so?
Each product is handmade with care and requires intensive labor. Our tailors are paid fair wages for their work. We work with our in-house tailor as well as marginalized communities to provide income opportunities. Furthermore, working with up-cycled materials requires more time and effort.
Where are the products made?
Our products are locally made in Malaysia. Every step of the production process from designing to manufacturing takes place in Kuala Lumpur, Malaysia. We strive to manufacture our products in environmentally and socially responsible ways.
Where do you source your materials?
Our materials are sourced locally in Malaysia with the exception of our vintage kimonos. The materials are either purchased in bulk or contributed by responsible individuals and corporations.
Do you accept unwanted materials?
It depends on the quantity and condition of the materials. As well as the function. Please contact us at fashion@biji-biji.com if you're interested to contribute or collaborate.
How do I clean the bags?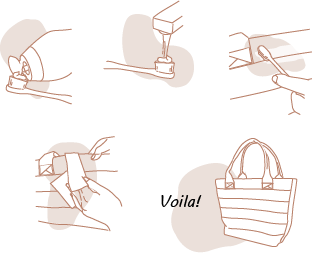 For seat belt bags:
Brush gently with a toothbrush and warm soapy water. For stubborn stains, we recommend using uncolored multi-purpose surface cleaner creams.
For Kimono fabric:
Due to the fragility of vintage kimonos, it is highly recommended that you take extra care in the cleaning process. We suggest sending them for specialist dry cleaning to retain their condition.
For Banner bags:
Wipe the surface with a damp cloth, use soapy water for stubborn dirt.
For Felt bags:
Brush gently with a shoe brush or use carpet foam cleaners for stubborn stains.