Transforming Event Waste into Sustainable Corporate Gifts
Posted by BIJI BIJI ETHICAL FASHION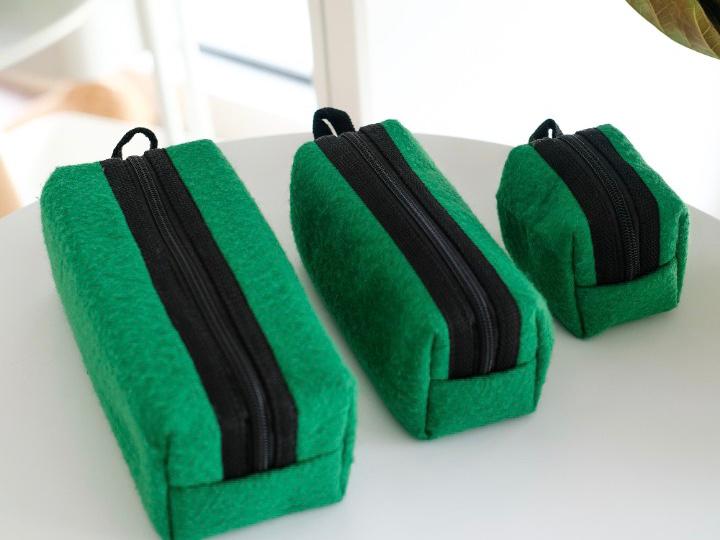 By: Supriya Sivabalan
As a company, marketing and events are bound to come up on your agenda. Tarpaulin banners are typically used as promotional material and felt carpets are utilized to fancy-up the event space. If you are looking to expand on your sustainable efforts as a corporation, Biji Biji offers services to upcycle your own materials. These banners and felt carpets that are bound to end up in the trash after living a short, monotonous life can be rescued and turned into functional (and stunning!) accessories - presentable as corporate gifts to guests and VIPs alike. 
Feeling overwhelmed with choices? Don't worry!
Biji Biji
has got your back as we break down our top 5 sustainable corporate gift options for your convenience:
Banner Collection
There's a certain reason as to why tarpaulin banners are a typical go-to for advertisements - and it's the same reasons we upcycle them at Biji Biji. Its highly-resistant material can withstand rain, heat, strong winds, and has a beautiful shiny finish to it. Perfect for upcycling! 
Also, since there's always an abundance of these banners used by companies, it is
the
perfect material to upcycle and can make a relatively significant and positive impact on the waste it creates. No two banners are ever the same, so owners of Biji Biji's Banner products can take pride with the knowledge that there is no other bag in the entire world that is the same as theirs. 
Biji Biji has worked with multiple companies including
Bank Muamala
t
,
British Counci
l

and
Rainforest World Music Festival
to produce banner products - customized to their need, using their OWN banners that they provided us to work with. This gives a personalized touch to corporate gifts - the perfect addition to sustainable
and 
ethically made products!
Iris Folder 
The  
Iris Folder
- no two folders are identical
Undoubtedly unique, the
Iris Folder
is upcycled from none other than
Tarpaulin Banners
. The Iris is trippy at first glance, with a banner design adorning its body and is perfect to spice up your office stationery line. With different splashes of colour that add life to the folder, keep all documents and important certification crisp and clean with the Iris. 
Quince Passport Holder 
This upcycled passport holder comes in a range of designs (of course - all banners are unique to their own design). The Quince i
s curated carefully to meet the measurements of a standard passport and is a great option as a gift because it fits the basic criteria of gifting 101 - something functional and great to have.
Felt Collection 
Felt is essentially pressed and condensed fibres, which completely explains the pulpy feel of the material. It is commonly described as durable and fashionable (This should be of no surprise as felt often adorns the hallways of grand events.) Typically, felt comes in bold and bright colours. Imagine a yellow carpet - that's the kind of stunning colour that is associated with these carpet materials. Picture that on pouches and clutches and folders! 
Biji Biji views felt material as a canvas of opportunities - thus we came up with a line of stunningly distinctive felt products from clutch bags to pouches.
Clover Clutch Bag
Made from upcycled fibrous felt material, the elegant clover clutch is a double kill as it also acts as a great folder! It has the perfect dimensions to hold A4 documents, the chic outlook of this clutch will awe anyone who lays eyes on it. The features of felt material give it a superior edge to your every day clutches.
Seripagi Pouch Bag
Small yet spacious, the
Seripagi Pouch Bag
from our
Felt Collection
is an adorable gift - perfect if you're looking for a bag that's of an in-between size. Not only will you be saving this precious felt material from turning into waste, but you will also be rewarding yourself (or your guests) with a unique and useful gift!
Melur Tote Bag

The Melur Tote - sturdy in form
Sturdy and strong, the
Melur tote
resembles the ideal bag for daily use. It has a very chic look that can instantly amp up a simple everyday style. It is a good size for carrying around on busy days and can easily fit essentials like phone and wallet while leaving a good amount of space to chuck other things in as you go about your day. It can even function as a small grocery bag too. 
Curious about the other products we have for bulk gifting? Check out our Business-to-Business Bulk Gifting Catalogue or contact us at fashion@biji-biji.com for more information on customization! 
Collection 2019
Sale 70% Off
Title for image