Rainforest Music Festival 2017 Banner Bags !
Posted by BIJIBIJI DESIGN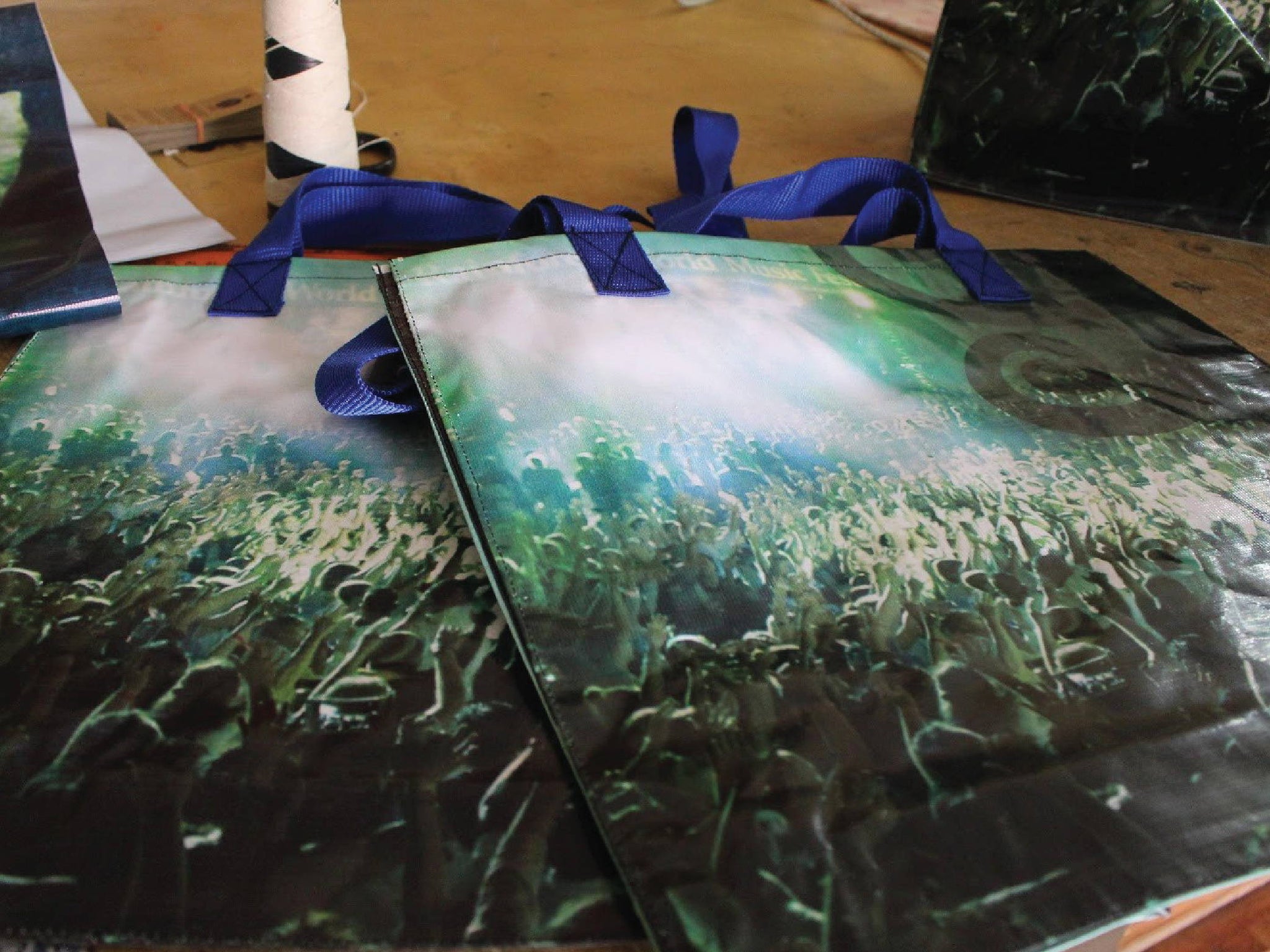 The Rainforest World Music Festival (RWMF) is a unique festival that brings together renowned world musicians from all continents and indigenous musicians from the mystical island of Borneo. Established in 1998 with an audience of only 300 people, RWMF is now a major annual event in the Malaysian music calendar. It is a festival eagerly anticipated by a crowd of over 20,000 people who flock from overseas and interstate. It is a family-friendly event with an emphasis on participation, especially at the afternoon workshops. RWMF has a record of environmental awareness as evidenced by its tree planting campaigns, its attention to recycling and the use of shuttle buses to reduce carbon emission.
Rainforest World Music Festival has been collaborating with Biji-biji Initiative for the past few years, with interactive art installations and  waste management as the go to programme. This year, we were thrilled that RWMF decided to engage with Biji-biji Ethical Fashion to help reuse their previous event banners from the 2016 festival. They have reached out to Biji-biji's fashion team for their new project, which was to reuse the discarded banners and make them into tote bags ethically designed for the event itself. The aim of this is to fully utilise waste and upcycle said waste into fashionable products specially made for Rainforest World Music Festival attendees in 2017, and so improving sustainability and lessening landfill waste.
The banners displayed during the festival have been collected over the course of a year by Biji-biji employees and were shipped back to Kuala Lumpur to start the production. They were first thoroughly cleaned and left out to dry to smooth out the wrinkles on the used banners. The banners were then laid out and measured piece by piece for the desired size of the tote bag, followed by our tailors cutting and sewing to complete the bags.
Biji-Biji Ethical Fashion has also worked with other event companies to create beautiful bags out of waste and other donations as part of our sustainable living aim for the last four years. These banner bags were made with lots of love and hard work by our in house tailors Sultan and Ashfaq who has been a part of Biji-biji Ethical Fashion's team for more than three years.
The overall outcome of this project is to bring social impact to sustainable living and fashion and to promote this awareness beyond Malaysia. Rainforest World Music Festival is a great platform for us to do so, as it engages artists from all over the world. The festival also helps to educate attendees more about Malaysia's heritage and culture as they spend time in Kuching, Sarawak, during the course of the festival. Lastly, this project could potentially help save wastage of banners in the landfill that could lead to more threatening issues if ignored.
We will be updating you with the full story of making the bags and all the goings-on at the festival itself, after next weekend. Stay tuned!
Collection 2019
Sale 70% Off
Title for image