KIAN Makes the Switch to Sustainable Corporate Gifts With Biji Biji.
Posted by BIJI BIJI ETHICAL FASHION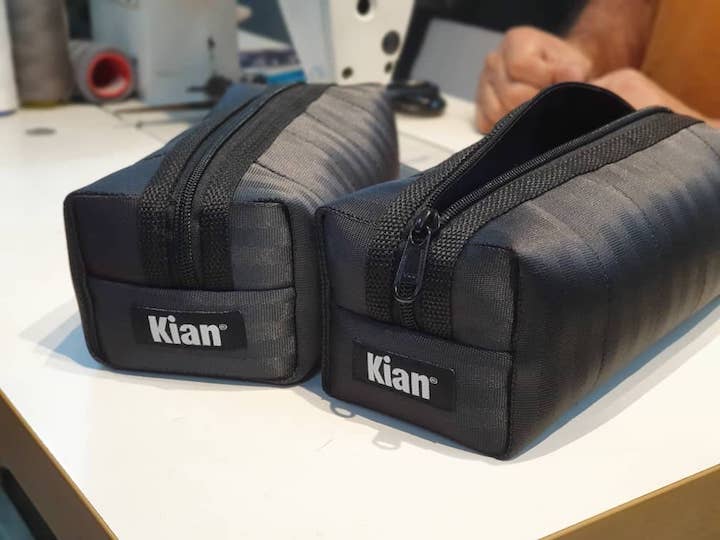 As simple as ABC -  that's how easy it was for KIAN to discover

Biji Biji
online and opt for sustainable corporate gifts!
KIAN
 has been a reputable intelligent furniture solutions provider since 1983. They have been and are currently continuously establishing their presence as a global market leader through persistent improvements in company values and forward-looking nature. This includes KIAN's efforts to achieve sustainability, whilst staying true to what they do. The effort they are putting into incorporating sustainable elements is very admirable. In fact, they have recently published many 
sustainability-related articles
to highlight the sustainable initiatives they have embarked on. Fun fact! KIAN's Marketing, Communications & Sustainability team used to work with Biji Biji previously. 
Hence, KIAN has been a long-time customer and friend of Biji Biji. Some of their employees are huge sustainability advocates and they even have their very own personal upcycled bags from Biji Biji! Recently, KIAN placed an order for our ever-famous Kamperfuli Toiletry Bag as a gift for their Annual Business Review 2020 event. The KIAN team was on the lookout for a good toiletry bag, and our Kamperfuli checked all their boxes! With it's sleek, minimalist outlook and upcycled seat belt body - you can't go wrong with this toiletry bag. The multifunctionality aspect of the toiletry bag is also a great feature that makes the Kamperfuli a universally suitable gift.
Thus, after a fated meeting was set-up where Biji Biji pitched the Kamperfuli, KIAN placed an order with us. Now comes the exciting part - production! Since this was a relatively new order, production rolled on and extended into the first 2 phases of the Movement Control Order (MCO) that was implemented in Malaysia as a response to the Covid-19 pandemic in mid-March. However, this drastic change in work style did not demotivate the Biji Biji team at all! With the help of online mediums and having shifted production to our Master Tailor's home, all gears were still smoothly turning and Biji Biji's engine was running at full speed!
Our Master Tailor hard at work in the Biji Biji Textile Lab, making the
Kamperfuli Toiletry Bag
!
Since it was the MCO period, representatives from KIAN were unable to physically view how their logo was to be customized and stitched onto the pouch. Although this was a challenge, both parties were accommodating and a simple virtual call with Biji Biji's CEO, Ambika.
Ashfaq hand-stitching every gorgeous detail on the pouch.
KIAN's order was thoroughly discussed and well-communicated to ensure maximum satisfaction. The PIC's of KIAN even managed to view a mock-up sample prior to the start of full-force production. 
With all business, SOPs adhered to and social distancing practices observed, Ashfaq, our partners from HRWE and in-house freelancers began to meticulously hand stitch each seat belt webbing alongside the KIAN logo to form the stunning Kamperfuli. 
Gorgeous details of the customized pouch!
"The production of the pouch is as per the sample that Ambika shared with us. So, that's great!", mentioned Harlina Kamjai, PIC of KIAN in this business exchange. Overall, they were satisfied with the end product of their customized Kamperfuli Toiletry Bag. Biji Biji is proud to assist KIAN in their journey of sustainability through green corporate gifts. 
The final product! Simple, sleek and stylish.
As environmental issues become increasingly prominent, it is crucial for corporations to take a stand and begin the revolution of change toward normalizing green practices for the sake of our home, Mother Earth. KIAN is an exemplary company of this effort and has proven to make a conscious effort in doing their part by adapting to sustainable alternatives when it comes to production and workflow. By choosing to invest in sustainable gifts for corporate events as opposed to the conventional tote bag, notebooks and (low-quality) pens, the company has saved a good amount of waste from cluttering up our already abysmal landfills. Another plus point on their end is good company branding! When you decide to actively present high-quality gifts that have a sustainable story behind them, it reflects highly on the company's image and increase's client and consumer confidence. 
Make the switch to sustainable corporate gifts just like KIAN did with the help of Biji Biji. You can even personalize it with your own signature branding.
Check out our corporate gifting catalogue
to learn more and view our favourite picks for corporate gifting! 
Collection 2019
Sale 70% Off
Title for image