Biji Biji and Malaysian Comic Artist SofsDoodles Team Up to Spread Positivity Amongst Anxiety Inducing Times
Posted by BIJI BIJI ETHICAL FASHION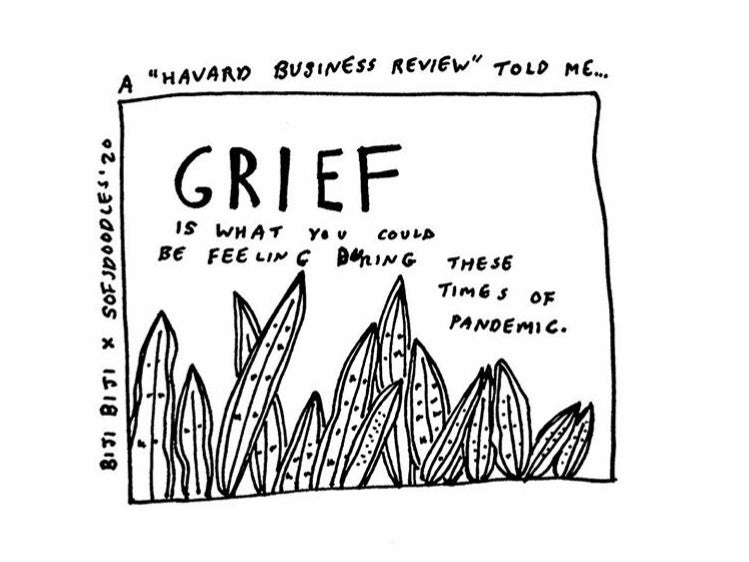 By Sofia Shamsunahar
Some days we felt off during the Malaysian Movement Control Order (MCO). We would find it hard to stop scrolling on our phones for hours and get up from the couch. We either lost interest in food or overeat.  Some days, we felt tired all the time, despite the fact that we were sleeping more than we ever have in the past couple of years . And other days, a sadness would creep into our bodies, for no apparent reason. 
It was confusing and unsettling. All these emotions within us that were going haywire, seemingly triggered by the smallest of things. Once we read the
Harvard Business Review
article,
The Discomfort You're Feeling is Grief
, by Scott Berinato, it all made sense. Grief, arguably one of the most complex feelings humans can experience, was taking over us because we were grieving a lot. We were grieving all the opportunities we were missing because of the lockdown. We were missing people and social connection. And most of all, we were grieving the normalcy of the world. Life almost felt dystopian now. We were scared of being
too
close to people, even meeting loved ones in fear of harming them. It was hard to make any plans or plan our future, and that could be frustrating and scary.
Finally understanding why we felt the way we did was empowering. It made us feel less lonely in our feelings, because we understood a lot of people were experiencing similar feelings. It made us kinder to ourselves as well, because we knew we were grieving, and grief is a difficult feeling to deal with. 
We wanted to empower others in our community, by helping them understand their emotions, and that they weren't alone in how they felt. In a time where people felt so helpless at the uncertainty of everything, we wanted to find a way to provide guidance and tips on how one could take care of themselves.
This is how our one-month long campaign
SEEDS OF HAPPINESS
came about. We partnered up with the Malaysian artist
SofsDoodles
on our mission to help empower those around us. We saw that SofsDoodles had started some initiative on spreading positivity during the pandemic months to help boost the immune systems of those following her, as
John Hopkins Medicine explains that positivity can help strengthen one's immune system
. SofsDoodles, also known as Sofia Shamsunahar, is an artist that creates minimalistic doodle comics that address mental health, well being and vulnerability, in hopes to spread awareness on such topics. She believes her child-like drawings are an accessible way to talk about such heavy topics without being too in-your-face. She posts her doodles on
Instagram
, and has completed six wall murals featured in Canada and Malaysia, given workshops about how to be vulnerable in art in University of British Columbia's
Student Leadership Conference
, been invited to draw at events such as
UBC's Sustainability Fair
, and given speeches at events about her story as an artist. 
Like Sofia's artwork, we wanted our Seeds of Happiness comics to be accessible to readers, so they could relate and reflect in a way they were comfortable with. With the Biji Biji Ethical Fashion team, Sofia reached out to members in the Malaysian community to hear their stories of how their life has been during MCO. Many people interviewed have done impactful environmental work, such as royal family member
Tengku Zatashah Idris
, who is the founder and advocate of the campaign
#sayno2plastic
and
#ZeroFoodWastage
, and
Sue Yee
, the founder of 
Zero Waste Malaysia
, an organisation that is run by
an admirable group of volunteers that look to promote a zero-waste lifestyle by helping our community change our consumerism habits. We started our campaign with a
comic
based on our learnings with the Harvard Business Review and showcased stories of our fellow Malaysians during the weeks after. 
Sofia listened to their stories during lockdown and asked what they struggled with, and what they are doing to cope. Some interviews were over the phone, some on Zoom and some were emailed. For Sofia, whilst listening she could visualize their stories in comic form, broken down panel by panel. She could pick out what the most powerful things interviewees were saying, and felt each person had one iconic thing they said that could be drawn to represent them as a comic character. For instance, singer-songwriter
Zee Avi
mentioned she started roller-skating around the house during MCO with such delight, that SofsDoodles drew her as a pair of
roller skates
. For
Fin.KL
, a cafe in Publika Shopping Gallery that has a zero-waste policy and healthy menu, Sofia drew them as a
rabbit
, since they were telling us what they were doing to avoid going down "the rabbit hole". Lastly, Sofia thought that
RD
'

s story,  the radio host for
Fly FM
, of how he studied to be a patisserie chef was particularly charming, and drew him as a
cake
. 
We're touched that those who we interviewed were so raw and vulnerable with us. For this piece, we've picked a few comics we created that resonated. We invite you to join us through our storylines. Comb through the comics, and listen to how life behind closed doors of our fellow Malaysians has been in these past three crazy months. 
Zee Avi, Singer-Songwriter
Zee Avi is a Malaysian singer-songwriter that's made it internationally famous for her songs
Bitterheart
and
Kantoi
.
When interviewing, Zee was so warm and chatty to speak to. And really quite hilarious. Sometimes, it felt like she was asking Sofia more questions about her  life than Sofia was asking her. She shared with us what it was like to be creative during the pandemic.
You can read more about Zee on her
website
.
Aisha Preece from OutandBeyong Blog
Looking for a way to make money online, that can pay more than your current office job? Or looking for a way to digitize your business? Aisha Preece can help.
Aisha quit her job so she could travel whilst working. When she found out she could make it, she wanted to share her knowledge on a blog she runs.
Since Aisha also coaches people on how to bring their businesses online. During the lockdown Aisha has noticed that her students now prefer working digitally, especially those who are single mothers as they have more time to spend with their children. 
 You can check out Aisha's blog named
Out and Beyond
over
here
.
Elaine Hong, Founder of Enya
Sofia had a really sweet and vulnerable conversation with Elaine Hong, who is the founder of
Enya
.
Enya is a pioneering digital period care company with the vision to provide quality care to women everywhere. Enya was brought to life with the aspiration to provide more affordable and holistic lifestyle options, especially with feminine care. Currently, their focus is on making pads made from organic cotton, free from harmful chemicals. 
Curious about their products? You can check them out
here
.
 Fin KL, Zero-Waste-Policy Cafe in Publika 
 Fin KL
is a cafe in Publika Shopping Gallery that has a zero-waste policy and serves healthy meals. We talked to them, and the line that they shared
"When you think about how big and blue the sky is, a lot of your problems seem really not bad" really stuck with us. As an F&B, their business surely has been impacted by the MCO, but it is admirable
how positive they were during the interview. 
Sue Yee, Founder of Zero Waste Malaysia
Sofia interviewed Sue Yee, the founder of
Zero Waste Malaysia
. It's remarkable how the organization is run by volunteers who are passionate about zero waste. As a way to advocate Zero Waste and help enforce the MCO, Sue Yee and her team put on weekly zero waste workshops, which were hosted on Instagram TV. Sue Yee called them "virtual engagement sessions". In this new norm, environmental activism has to take place mostly virtually, and Zero Waste Malaysia has been doing a great job fighting for their values. 
Tengku Zatashah, Environmental Advocate
Tengku Zatashah
has touched and helped so many people's lives without leaving her home during this lockdown, working with so many organizations such as
Make a Wish Malaysia

,
Kechara Soup Kitchen

, 
and
Yayasan Food Bank

.
We are inspired by the amount of work she does, but also by her strong mindset of focusing on the positive and having a perspective that is always grateful. 
Collection 2019
Sale 70% Off
Title for image