There's a Biji Biji Bag for Everyone!
Posted by BIJI BIJI ETHICAL FASHION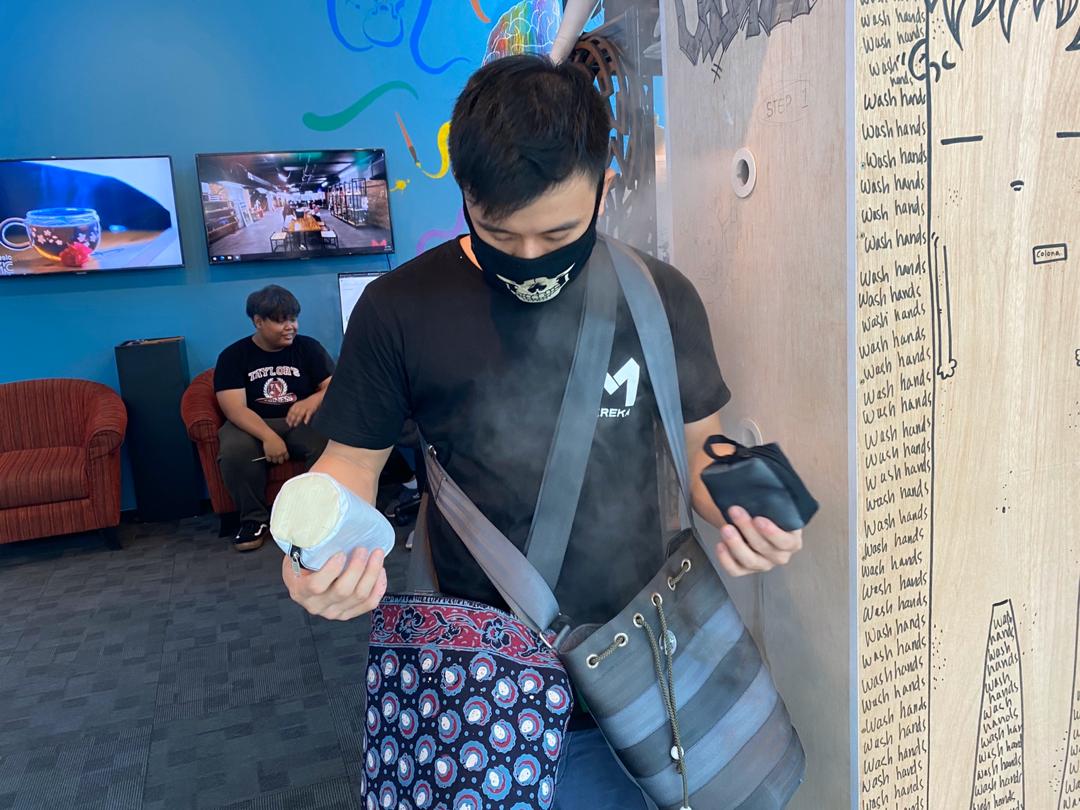 Having studied
Bachelors of
Marketing Communication
, Faris's life has clearly taken a 180-degree turn, given his current position as a fabrication expert in
Taylor's Me.reka Makerspace
(branch of
Me.reka
, a subsidiary of
Biji-biji Initiative
). As someone who was always eager to perform hands-on practical work, Faris stumbled across Biji-biji 5 years ago and realised that the unconventional nature, story and purpose of Biji-biji was just what he was looking for. Upon coming across Biji-biji, Faris trained for a year under William, co-director of Taylor's Me.reka and previous Head of Production in Biji-biji. Fun fact: William too was a
marcomm major, just like Faris, but learnt up his fair share of skill and knowledge by spending lots of time at his brother's car workshop. 
In fact, Faris and William were from the same university and Faris ended up becoming the president of the Multimedia Society that William founded years before Faris was a student. Talk about coincidence!  
And
they both ended up doing woodwork and metalwork in the end! Faris says he is now "a multi-elemental waste art builder" and is a maker because "[he] believes that the world is in need of more people making things rather than just consuming." 
Faris joined Biji-biji roughly 5 years ago in 2016 and that's when he first laid eyes on our gorgeous
Biji Biji
bags. The first bag he ever purchased was as a gift to his friend and ex-intern who went back to France at the end of her term. He bought a
Balsam Bucket Bag
for her due to its versatility and minimalistic outlook. She absolutely loved it! That marks the beginning of Faris's gifting journey of Biji Biji bags. Since then, he realised how perfect Biji Biji bags are as gifts given their unique and durable nature. Faris then became "addicted" or as he calls it, "a phase" of just buying Biji Biji bags for his loved ones, including himself. Faris owns 4 Biji Biji products as of today - 1 banner pouch prototype, 1 
Matahari Bucket Bag
, 1 limited edition Batik Bucket Bag which is reversible (a precursor of our
Kanzo Bucket Bag
) and a
Black Cenderawasih Pouch Bag
. 
He loves using the bags for his various day-to-day activities. Faris clearly leads an exciting life as a fabrication expert in Biji-biji but there is
a lot
more to him than his work. He is great with drums, enjoys skating, was a parkour instructor and is always down to take on a challenge. With a life that versatile, Faris's Biji Biji bags are perfect to handle his spontaneous antics given the bags's resilience and low maintenance. His favourite is the Matahari Bucket Bag and he occasionally uses it to store his skating gear because the Matahari's spacious interior serves as the perfect home to his treasured (not to mention expensive!) gear. 
Faris's skateboard and gear (in the Biji Biji bag!)
Faris also uses his Biji Biji bags when he goes shopping or for his groceries due to the simplistic outlook and clean finish of the bag - besides its strength in holding heavier items. 
In addition to utilizing these bags for himself, Faris also spread his love for Biji Biji to his mom, cousins and even his mom's friends! When asked to name the bags he purchased, Faris chuckled and tried to reminisce back to the many
many
gifts he has bought from us. "I'm Biji Biji's #1 internal supporter!", he said. Faris believes he has gifted over 12 bags to various people because "there's a Biji Biji bag for everyone!" Faris's purchase is mostly from the
seat belt collection
but he has purchased a few 
banner
pouches and bags as well. 
"The
Peony Tote
,
Balsam Bucket Bag
, Magnolia Bag, The
Sakura Tote Bag
, a limited edition
Daffodil Backpack
,
Camelia Clutch Bag
…", Faris mentioned as he reminisced. "Uncountable at this point!" Faris said his mom, Mimi, is also a huge fan of the brand and has bought herself some Biji Biji bags of herself on top of the gifts from Faris. In fact, she has a Sakura Tote that has been specially customized for her with the Vintage Kimono of her choice. 
Faris's mom's (Mimi) Biji Biji Bag collection!
According to Faris, his mom
does
use some of her Biji Biji bags but finds some of the bags too precious to be utilized due to the beauty of its designs and intricate sewing techniques. Faris's mom has also bought and stocked up on a good number of bags as gifts for others. As for the bags she personally owns, Mimi uses them every day. A different Biji Biji bag to suit her different outings, mood and style!
Faris said he has never cleaned his Biji Biji bag before, because "there was never a need to due to its sturdy exterior!" He has purchased many different Biji Biji bags over the years, but you can't even tell the difference between the old and new. Try it! 
One of the bags below was purchased 4 years ago while the other was bought just last year. Can you tell which is which? 
Faris's bags: 4-years-old (left) and less than 1-years-old (right)
"My mom does clean hers sometimes. She brushes the dirt off or sometimes uses a cloth, and honestly, it always looks new!" Faris loves the lack of maintenance that the Biji Biji bags require and NONE of his many bags have ever encountered any problems. "Even if they do act up, I know I can always bring them down to Publika and the Fashion Team will be more than ready to assist me." Biji Biji also provides a
1-year warranty
for all seat belt bags owner, so you can make your purchase with confidence. 
"Biji Biji has always been my go-to for gifts. Not just because the unique material easily impresses the receiver of the gifts, but mainly because I know where my money is going." Faris is a huge supporter of ethical fashion and encourages everyone to slowly move away from fast fashion by making conscious purchases as consumers. He mentions that Biji Biji is extremely transparent with what we do and has personally seen the genuine and fair treatment the brand provides its employees. "Definitely a step closer to reversing the norm of fashion employees being treated badly!" Faris also likes the fact that Biji Biji is a platform that provides opportunities to underprivileged and marginalized communities given the many collaborations we have done with various organisations like
Yellow House KL
. Read more about
what you're paying for when you buy Biji Biji bags
!
All in all, given the features, durability and story behind each handcrafted bag - it is no surprise as to why Faris (and his family & friends) love Biji Biji bags. He says he will continuously support the brand and will never get tired of its timeless designs which perfectly suit his aesthetic - "and everyone else's too because of the simplicity in design."
If you own a Biji Biji bag yourself, do tag Biji Biji (@bijibijiethicalfashion) and use the hashtag

#bijipopped

on Instagram to be featured on our social media and blog!
Collection 2019
Sale 70% Off
Title for image