Stretching Boundaries of Sustainable Fashion With Biji Biji
Posted by BIJI BIJI ETHICAL FASHION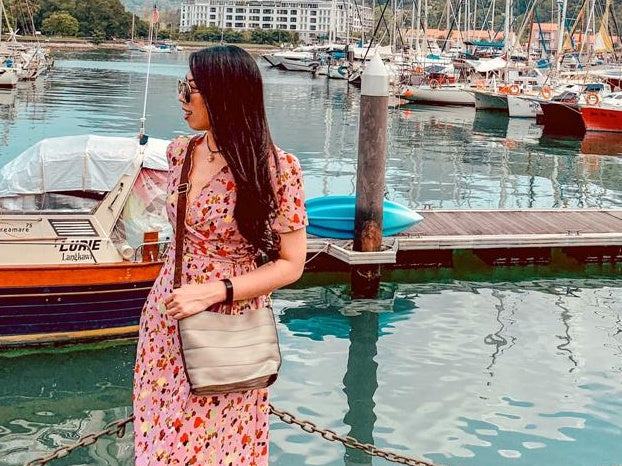 By: Supriya Sivabalan
Lawyer by Day, Yoga Instructor by Night 
Amelia Goh leads no mundane life as her daily schedule is power-packed with stuff to do. She works as a lawyer as her day job and -get this- teaches Yoga at night! Super cool. Clearly, she is a flexible woman who is always ready to embark on a journey and is always seen with her trusty
Biji Biji bags
by her side. 
Owning over 6
Biji Biji bags
, Amelia loves every single one of the pieces that she owns and utilizes the different looks to suit her various ventures. Among them include the
Bowler Bags
in 2 colours and her
Orkid
with a stunning Batik lining! Amelia's vastly versatile lifestyle requires her to constantly change up her wardrobe accordingly - but with the timeless designs of her seat belt bags, she conveniently uses them ALL THE TIME! At the office, she enjoys using her Bowler bags due to it's roomy structure that allows her to keep essentials for work. When she is off teaching Yoga, Amelia opts to use her tote bags. The sleekness of the totes provides a comfortable medium just for her to carry her necessities. 
Donning a gorgeous Biji Biji tote against a colourful backdrop!
With so many of our collections under her wing, we had to ask - what does she love so much about our Biji Biji bags? 
"The seat belt of course!" Amelia told us how blown away she was with the entire concept of the Seat Belt bags. The uniqueness of utilising rejected seat belts from factories and turning them into a hardy yet chic bag made her head over heels for them. Amelia also mentioned that the concept of slow and ethical fashion drew her in. She is all in for supporting the cause and is a strong participant in bringing us one step closer to achieving the
mission of Biji Biji
- to transform fashion alternatives into the norm with our handmade accessories. Amelia said that ever since she bought her Biji Biji bags, she hasn't made any other bag purchases. Well, that's slow fashion for you!
Slow fashion refers to building a personal, authentic relationship with fashion that is not influenced by trends and seasons which allows your ethics and aesthetics unite. Instead of focusing on the stress of keeping up with the trends and giving into constant consumption, you are able to focus on your own unique sense of style. As such, slow-fashion items are highly durable as well as thoroughly loved and used, thus automatically reducing the need and want to always buy something new at the store. Therefore, this positively contributes to reducing overall wants that typically end up in our mountain-high landfills. 
Amelia looking stunning with her vintage kimono

Bowler bag

in the design, Pretty in Pink to complete the look

Oh, snap!
Amelia only experienced issues with her
Orkid Sling Bag
among the many others she has. She noticed that her buckle had snapped and contacted Biji Biji to send in her
Orkid
for fixing at the HQ in Publika. Seeing as the buckle broke within 1 year of her purchase, Amelia received a quick and free fix from Ashfaq our in-house maker. All she had to do was pass her bag down to the Fashion Team and wait for a call to pick up. No fuss, no complications. 
Pairing the minimal

Orkid Bag

with her patterned maxi dress!
Amelia said she wasn't thrown off by the buckle that broke as it
is 
a common part of bags that is susceptible to damage, especially with frequent use. However, the
Orkid sling bag
has been modified since then and has been upgraded to the
Lilac
in our
newer collection
.

Upon receiving her fixed bag, Amelia said she was satisfied with the service and her bag looked as good as new. She was ready to take on her busy days with her beloved
Orkid
once more. 
Repaired and refresh - the

Orkid Sling

bag with Amelia once again!
1 Year of Free Repairs
After your Biji Biji purchase, fret not! You can take comfort in the knowledge that your bag is eligible for 1 year's worth of free repairs*, should the bag require maintenance by our experts at the production centre in Publika. So, you can confidently take pride in your ethically produced bag and strut around with it, given the timeless designs. 
*Terms and conditions apply. 
Special thanks to Amelia Goh (@yogabyame) for taking the time out to talk to us about her bags! If you feel like getting a good stretch in, Amelia conducts Yoga classes at the Me.reka HQ in Publika on Wednesdays at 7pm. Feel free to sign up and drop by if interested! Classes go on a pay-by-donation basis. 
If you own a Biji Biji bag yourself, do tag Biji Biji (@bijibijiethicalfashion) and use the hashtag #bijipopped on Instagram to be featured on our social media and blog!
Collection 2019
Sale 70% Off
Title for image