Biji Biji Supports Yellow House KL's Sustainable Livelihoods Project for Refugees By Providing Job Opportunities to the Afghan Refugee Community
Posted by BIJI BIJI ETHICAL FASHION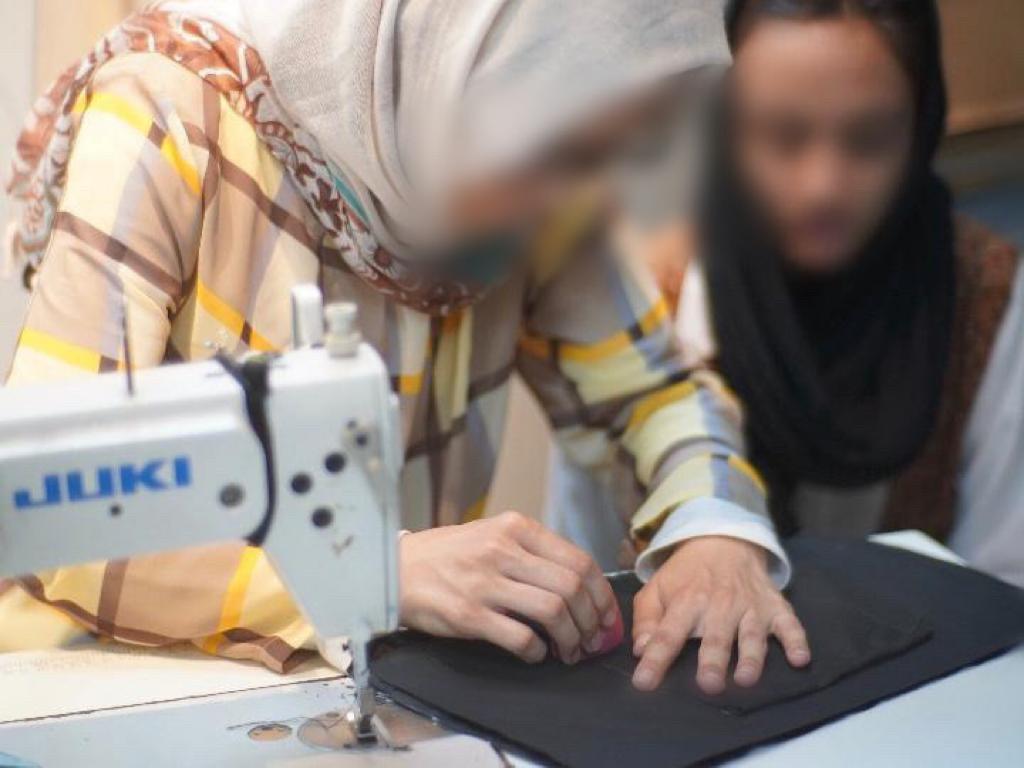 Aspiring to reverse the common misconduct of the fashion industry,
Biji Biji
takes pride in being recognized as an ethical and local fashion brand that stands to shift society's paradigm of working in fashion. With a growing platform that meets
fair trade standards
as we adequately compensate our employees and provide them with a comfortable, safe and secure environment to work in, Biji Biji is exemplary in encouraging behavioural change in the way we treat fashion employees, regardless of background. 
Biji Biji also serves as a medium that provides opportunities for marginalized communities to receive a steady stream of income and learn to be self-sustaining by attaining skills during their time with us. In fact, Biji Biji has collaborated with multiple underprivileged communities including 
Yellow House KL
.
Yellow House is a not for profit grassroots community organization dedicated to improving lives to be more sustainable for homeless people, urban poor, and refugee communities in Selangor and Kuala Lumpur.
"Yellow House believes in harnessing the skills of our beneficiaries to create better lives. We strive to provide sustainable livelihood interventions for refugees because we strongly believe our refugees community can be self-sufficient, learn new skills & pursue

economic opportunities.

These are

vital

for them to rebuild

their lives to become productive members of a community." mentions Shyam

Priah, Founder of Yellow House.
Connecting Biji Biji & Yellow House KL
Yellow House runs an initiative called Sustainable Livelihoods Project for Refugees under their 
Street People Project
which aims to "offer a series of paid and consistent part-time jobs for rough sleeping homeless men and women to gently re-enter the workforce". Yellow House intends to provide these individuals guidance during this transition period into leading a self-sustaining lifestyle. 
Biji Biji's business of making bags requires a production line, but given the nature of our orders which are ad-hoc, it is impractical and unsustainable to hire full-time employees. In light of this, Biji Biji's Head of Ethical Fashion, Ambika Sangaran had a lightbulb moment. "All these years, I've heard about many Non-Governmental Organisations (NGOs) and organizations that run sewing classes to the underprivileged Malaysians and commissioning them orders. So, I thought it would be best to work with these organizations", Ambika mentioned. It's ingenious because Biji Biji can tap into the pool of people who have trained and provide them with additional income through collaboration with NGOs and Social Enterprises (SEs). This led Biji Biji to explore and seek for opportunities with other organisations, just like Yellow House KL.
Ambika first met Shyam, at one of the Social Business Leaders Gathering and found out that she works closely with the Afghan refugee community. Biji Biji's cause matches Yellow House KL's aim to allow individuals deprived of fair opportunities to engage in meaningful activities while providing them with financial income. Confident in Biji Biji's principles and thrilled to have the perfect platform that fits the mould for Yellow House's Sustainable Livelihoods Project for Refugees, Shyam sent over a woman to work with us!
Working in Biji Biji
Familiarising themselves with the seat belt material
When Aida (not her real name) first joined the Biji Biji family, she could only produce dresses, not bags and pouches, which is what Biji Biji's products comprise of. However, since she already possesses the sewing skills, she quickly learned how to make many types of Biji Biji products from Ashfaq, our Master Tailor. She began with stitching up designs from our
Classic Seat Belt Collection
and is now skilled to produce over 8 types of Biji Biji bags. 
Dedicated and hard at work!
Biji Biji's Master Tailor (left) teaching Aida how to make the Peony Tote 

i

n Black!
Once, Aida even had an idea of her own and innovated a small and compact bag using the additional materials we had lying around.  Clearly she has a lot of fun with us and appreciates the skills and work Biji Biji offers her. When asked if she enjoys it here, Aida replied: "Yes, absolutely!". She loves that she has learned new skills and is even picking up a new language, Urdu, from Ashfaq who hails from Pakistan thus Urdu being his Mother Tongue. She said that's one of her favourite parts of working - the fact that she can learn a new language, besides the amazing work environment. Ambika is very happy with Aida's performance as well and says that she is "dedicated and a superb addition to our team!"
Biji Biji's Impact
Meticulously cutting through material
Through collaborations like this, Biji Biji hopes to build a skilled and talented community in the country through the production of bags. Malaysians tend to lean toward the making of garments, rather than accessories thus contributing to an imbalance in supply and demand when it comes to jobs in fashion. This is a great way to bridge that gap! These collaborations also allow us to strengthen partnerships with NGOs and SEs who work with the underprivileged community while achieving a fair trade supply chain. 
Biji Biji is constantly on the lookout for tailors and people who are willing to learn to sew bags to be recruited into our family! Contact us at fashion@biji-biji.com if this piques your interest. 
Collection 2019
Sale 70% Off
Title for image