Bank Muamalat Collaborates With Biji Biji to Bring Sustainable Elements to the Financial World
Posted by BIJI BIJI ETHICAL FASHION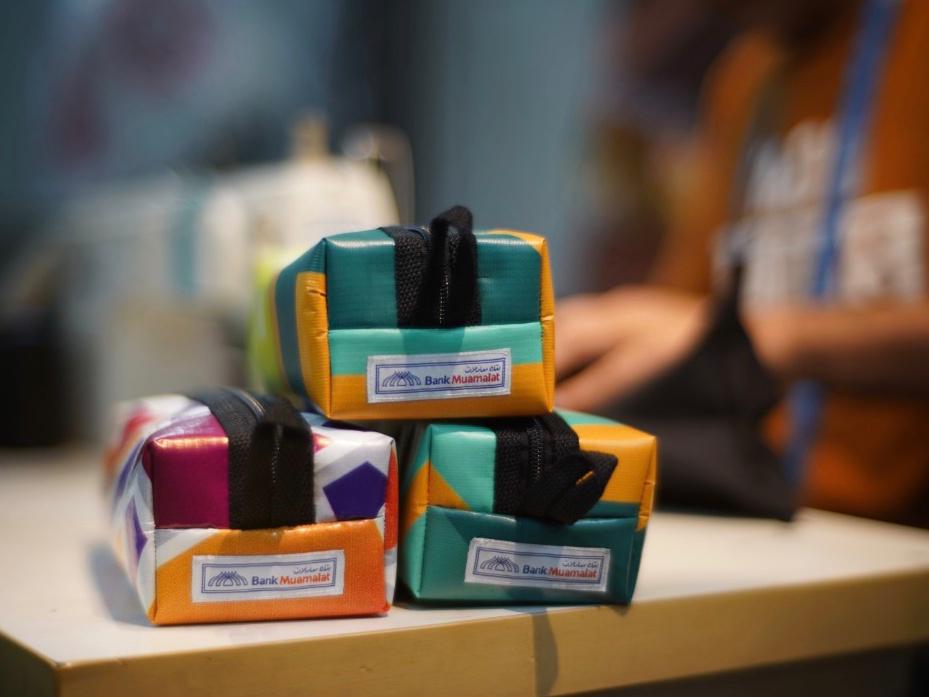 By: Supriya Sivabalan
Corporate door gifts tend to get mundane, repetitive and unsustainable. Associated with the term "corporate gifts" are low-quality, plastic dominated form of items like pens, sticky notes, hand fans, lanyards - all those mini trinkets that end up lying around as waste which eventually ends up in our landfills, fueling the dumpsites with more unnecessary trash. Realising this, many corporations have decided to make a change. 
Inspired by what Biji Biji has to offer as a splendid alternative to these commonly discarded gift options, Bank Muamalat took a step forward as a participant in reversing the stigma of unsustainable corporate gifts. They collaborated with Biji Biji to purchase corporate gifts as souvenirs for their VIPs under private events that they hold. 
Bank Muamalat presenting the Saga Clutch to their VIPs
Bank Muamalat met with Biji-biji Initiative's Circular Solutions department prior to the collaboration. Upon viewing Biji Biji products that were presented by the department, the Bank Muamalat representatives loved it! They then proceeded to purchase them in bulk for gifting.  The order consisted of 20 pieces of
Angsana Pouch Bags
from our
Banner Collection
a
s well as 20 pieces of
Saga Clutch Bags
from the
Seat Belt Collection
. 
Mini details incorporated and customized on the

Angsana Pouch Bag
Bank Muamalat's decision to incorporate sustainability into their event agenda is a fantastic start to incorporating green elements into the financial sector. In fact, during the assistant governor of the Central Bank of Malaysia's (Bank Negara Malaysia) speech at the 
Islamic Finance News (IFN) Green and Sustainable Finance Forum 2019
, he mentioned "
We must now acknowledge, that the sustainability agenda has gained increasing importance and a momentum of its own." During his talk, he essentially spoke on green initiatives that have been administered and calls out for ways to "stay on course in keeping sustainability and responsible finance a prime focus of business in the financial sector." 
In tune with that, Value-based Intermediation (VBI) was issued by the Central Bank of Malaysia toward Islamic Bank Institutions (IBI). VBI essentially aims to deliver the intended outcomes of Shariah through practices that generate positive and sustainable impact to the economy, community and environment while also staying consistent with the shareholders' sustainable returns and long-term interests. 
Based on the phases of implementation of VBI, the final aim is to "observe total change in behaviour and culture" where IBIs continue to deliver positive and sustainable impact through its daily operations. This can be seen through the smallest of changes made by the banks. For instance, just by making a different choice whilst keeping sustainability in mind, the final aim of VBI can be realized. Clearly, this collaboration with Bank Muamalat fits perfectly with this ideal (that is now slowly turning into a reality) as it is simple switches like this;  from unsustainable corporate gifts to sustainable
and 
upcycled corporate gifts, that can start to make a difference and allow us to reach the final phase of VBI. 
Biji Biji's Master Tailor upcycling tarpaulin banners into sustainable corporate gifts!
By choosing the
Angsana
and
Saga
over your everyday glass plaque and paper certificates, Bank Muamalat is bringing us all one step closer to achieving the general goal of incorporating sustainability to the financial world. In switching out the norm of unsustainable corporate gifts to sustainable "alternatives", we engage in bringing change and slowly making these alternatives the norm, thus completely disposing of common unsustainable practices through more collaborations like this. 
The 
Angsana Pouch Bag
is innovated from tarpaulin banners that are commonly hung around as promotional items. Instead of tossing these clean materials (which is typically used in abundance) away after their single purpose has been fulfilled, Biji Biji rescues them and transforms them into products aforementioned and others that can be seen on our
website
. Definitely one of the more versatile products, the Angsana serve as a great functional gift during corporate events. 
The other product requested by Bank Muamalat, the
Saga Clutch Bag
, is produced from rejected car seat belts. Durable and hardy, the Saga has a gorgeous, minimal outlook that serves as a premium-looking gift. All bags from our seat belt collection even come with a
1-year warranty
to ensure its durability too! 
With guaranteed awe from your audience, sustainable corporate gifts can truly make a difference in the quality of your event. Bank Muamalat's collaboration with Biji Biji has brought improvement to the level of awareness, understanding and appreciation of sustainability practices that are integrated into bank's institutional practices, as per Bank Negara's efforts toward green financing in Malaysia. 
Given the multidimensional nature of the
Sustainable Development Goals (SDGs)
, the financial sector's role in enabling an orderly transition to a sustainable economy is going to take a big change. However, it is definitely doable, as proven by Bank Muamalat's participation in promoting sustainability through their corporate gifts, as we work towards a greener financial sector as a whole.  
Looking for a sustainable and corporate gifts for your next event? Check out Biji Biji's Business-to-Business Catalogue for Corporate Gifts and get inspired by the gorgeous products we offer. 
Collection 2019
Sale 70% Off
Title for image